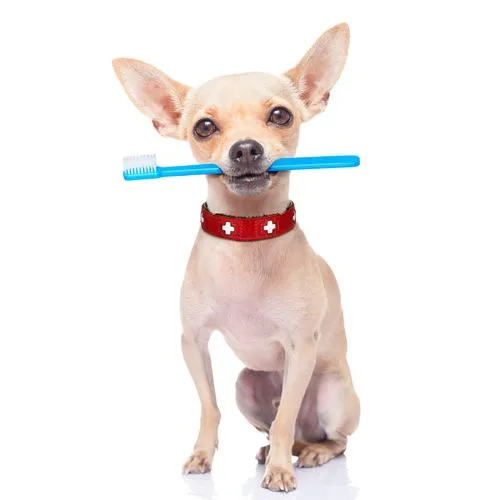 Comprehensive Pet Dental Care From Our Veterinary Dentists
It's essential for your dog or cat to have healthy and clean teeth. Just like humans, your pet can acquire gum disease and other oral problems, including tooth decay. Poor oral hygiene can extend beyond your pet's mouth. If left untreated, the toxins from periodontal disease can absorb into the bloodstream and affect its kidneys and liver, and can potentially cause fatal organ damage.
At the Phoenix Veterinary Center, we are passionate about providing the best healthcare for your pet. Along with proper nutrition, exercise, and preventative care, healthy teeth play a vital role in the overall health of your dog or cat. With a routine dog and cat teeth cleaning at our animal hospital and veterinary clinic, you can increase the likelihood of your pets' mouths avoiding the complications of dental disease, general anesthesia, and surgery altogether.
Our veterinarians have experience with dog and cat teeth cleaning, dental care for pets and dental diets for pets and continuously seek to improve their knowledge and skills through advanced continuing education.
To schedule a consultation with our veterinary clinic, please reach out to us as soon as possible. We provide experienced and professional pet dental services and will help you create your own pet dental care program for your home. Call today to receive the support of our compassionate and professional Phoenix dental care team.
Veterinary Dental Services
To keep your pet from experiencing serious medical issues, it's crucial that you pay special attention to their dental hygiene. In fact, some veterinarians suggest using pet toothpaste to help reduce tartar buildup between professional cleanings. Never use human toothpaste because it contains ingredients that are harmful to your pet if swallowed. Pet toothpaste comes in flavors that will appeal to your pet and is completely safe if swallowed. Professional routine dental cleanings can prevent tartar and plaque from building up and creating health problems later in life. They can even help you spend less money on medical bills for your dog or cat and reduce the annual cost of pet ownership.
Our veterinary team at the Phoenix Veterinary Center is best qualified to determine when your dog or cat needs a pet dental cleaning. Our Phoenix veterinary staff provides the following veterinary dental services.
Dental and oral examination
Dental extractions
Oral surgery
Dental X-rays
Ultrasonic scaling to remove tartar
Polishing to prevent plaque buildup
Fluoride treatments to strengthen teeth
And more!
Are you looking for veterinary dental services near Phoenix, Arizona? If so, then please schedule an initial appointment with our veterinary staff. Our quality, professional and compassionate approach to pet healthcare has helped us become one of the premier veterinary centers in the greater Phoenix area. We deeply value our clients' experience and have a page entirely dedicated to their
testimonials and reviews. Their praise of our veterinary dental clinic means the world to us and inspires us to keep delivering a customer-oriented client experience.
Dog Dental Cleaning Near Phoenix
By the age of three years old, the majority of dogs will have some evidence of periodontal disease. If preventative measures are not taken, your dog's condition will worsen, potentially causing other health problems, including kidney, liver, and heart muscle changes.
Our Phoenix veterinarian staff can examine your dog's dental health and make health recommendations to reverse the evidence of periodontal disease. You should schedule dog teeth cleaning at least once a year in order to maintain proper dental care for your dog and prevent future problems from emerging.
Please feel free to send us a message for more information about dog dental cleaning and oral care. Our Phoenix dog dentist will answer all your questions and help you find a solution to your dog's oral health problems.
Dog Teeth Cleaning Cost
There is no set price for a dog teeth cleaning. Dog dental cleaning costs will vary depending on several factors, including the amount of veterinary dental services your dog receives, the age of your dog and the size of your dog.

However, your veterinary dentist may find other health problems when performing a dog dental cleaning. If a tooth extraction is needed, then you can expect the price of your dog's medical bill to increase.
Early prevention is often the best way to receive a low dental bill. Scheduling annual dog teeth cleaning near Phoenix, Arizona, will protect your dog's dental health and prevent you from paying for costly procedures out of pocket. Contact the Phoenix Veterinary Center today to book an appointment with an experienced and affordable dog dentist in Phoenix.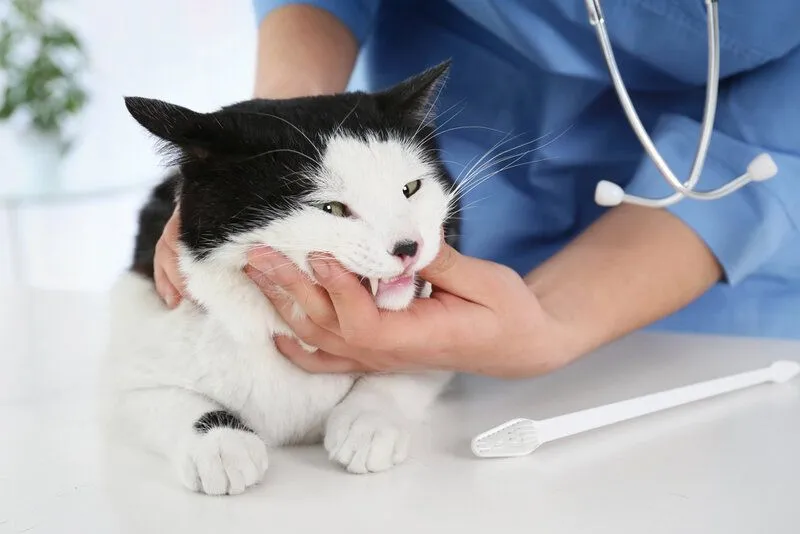 Cat Teeth Cleaning Near Phoenix
Similar to dogs, a healthy set of teeth and gums helps keep cats in good overall health. Unfortunately, like so many other cat ailments, cat dental health problems often go unnoticed until it's too late.
At the Phoenix Veterinary Center, a cat dentist can provide your cat with in-clinic care when needed. We're equipped to provide comprehensive cat teeth cleaning and offer various other important cat dental services. This includes removing plaque and tartar accumulation from your cat's teeth and performing surgical procedures at our veterinary dental clinic.
Since cats are experts at concealing any physical pain, we recommend bringing your cat in for a full dental examination at least once a year. This will ensure we find any minor curable issues and develop a treatment plan to prevent significant problems from occurring.

Don't hesitate to get in touch with our veterinary staff if you have any questions about cat teeth cleaning or cat dental health. We can offer you our expert advice and provide you with a list of helpful veterinary resources.
Dental Surgery for Dogs and Cats
At the Phoenix Veterinary Center, we have the ability and resources to provide pet owners with better solutions to treat a variety of dental conditions to make sure your pet has a healthy mouth. Our veterinary staff combines state-of-the-art tools and technology with our expertise in veterinary dental surgery.
If your dog or cat requires dental surgery, you can rest assured knowing we have the necessary skills to create and execute a custom treatment plan designed for a safe and quick recovery in mind.
Contact us today if your pet is in need of veterinary dental surgery near Phoenix, Arizona, and the surrounding areas. We can assist you in all your pet's dental needs and guide you and your pet throughout each phase of the surgery and recovery process.
Compassionate Dog Dental Care
Now that we have described the worst possible scenarios about your pet's teeth, the good news is that it is all preventable. At the Phoenix Veterinary Center, we believe that preventative care for your dog's teeth is the best medicine.
When your dog's breath takes a turn for the worse, it could indicate that they are having oral issues. We can provide a thorough examination of their mouth to help us determine if a dog teeth cleaning is necessary. This will also give us the opportunity to speak with you about the best ways to prevent periodontal disease.
If we find that tooth extraction is necessary, then our veterinarians are skilled in oral surgery, including complicated tooth extractions and flap procedures to prevent open sockets. We are passionate about preventative care and offers compassionate dog dental care to all our patients.
What Are the Symptoms of Dental Disease in Your Dog?
When caring for your dog, it is up to you to pay attention to changes in their eating habits. After all, you are their voice, and unlike your pet, you have the advantage of being able to speak up when you have a toothache.
If your dog has one or more of the issues listed below, then it's time to schedule an appointment and see if they need a dental cleaning or possibly even an extraction.
Bad breath
Tilting head to one side when chewing
Loose or lost teeth
Visible tartar and plaque
Unwillingness to eat
Avoiding chewing hard objects
Sensitive to touch
Crying out in pain

What Are the Signs of Cat Dental Problems?
Unlike dogs, when your cat has a toothache, they may not show visible signs of discomfort until considerable pain is felt. Cats often hide their pain, so paying attention to changes in their behavior is critical.
If you notice any concerning changes in your cat's behavior, you should notify us of your concerns. This is the best step you can take to prevent your cat from feeling further pain. These changes often involve the following symptoms.
Bad breath
Drooling
Pawing at the face
Bleeding gums
Redness or swelling of the gum lines
Sensitivity around the mouth
Missing or loose teeth
Pus around a tooth
Does My Pet Need Anesthesia for Its Dental Procedure?
Our veterinary dentists do recommend your pet undergo anesthesia when receiving a comprehensive dental examination. Without administering anesthesia to your pet, it's challenging to perform a thorough dental cleaning and dental x-ray. Our team could fail to correctly diagnose your dog or cat's dental condition, causing a variety of short and long-term health challenges.
At the Phoenix Veterinary Center, we understand that anesthesia is a common concern for many pet owners. We will administer anesthesia safely to your pet and use individualized anesthetic protocols for your pet based on its age, breed, type of procedure, and health status.
Our Veterinarians have years of experience and advanced education in anesthesia and place a high priority on pet safety, support, and patient recovery. Our veterinary team will conduct a pre-anesthetic examination to ensure your dog or cat is prepared for surgery. During the procedure, we'll monitor your pet's progress and make sure that proper pain management protocol is being followed.
Does My Pet Need to See a Veterinary Dentist?
Most veterinarians perform standard dental examinations and teeth cleaning. However, a general veterinarian may not have the tools and equipment required to resolve certain oral and dental problems. A veterinary dentist that focuses on canine and feline dentistry and oral surgery will offer a wide range of special treatment options that you may not find at a general veterinary office.
What Happens During a Typical Dog and Cat Teeth Cleaning?
Our veterinary dentists tailor your pet's teeth cleaning based on their specific needs. However, we always perform the following steps during a typical dog and cat teeth cleaning.
Review the anesthetic consent form and doctor recommendations for your pet
Conduct a physical examination of your pet
Take before and after photos of your pet's oral status
Remove any tartar or plaque above or below the gum line
Look for signs of infection or evidence of periodontal disease
Identify any abnormal findings and recommend treatment options
Take dental x-rays
And more!
Professional Dog and Cat Teeth Cleaning From the Phoenix Veterinary Center
At the Phoenix Veterinary Center, we strive to provide complete care for our patients. Our veterinary staff members will do everything they can to provide your dog or cat with the highest level of service.
From pet dental care that is second to none to preventative physical exams, pet education, internal medicine, and comprehensive lab testing and diagnostics, we treat our animal patients with the love, care, and compassion they deserve.
We provide the following services to dogs and cats in Phoenix, Arizona and the rest of Maricopa County.
Digital dental radiography
State-of-the-art anesthetic machines and anesthesia monitoring
Beautiful surgical suites
Diligent preventative care
To learn more about dog and cat teeth cleaning in Phoenix, contact us today to make an appointment for your pet, or give us a call at (602) 559-5500. Please review our Newsletter Library and Video Newsroom to learn how to create a healthy, happy life for your pet.