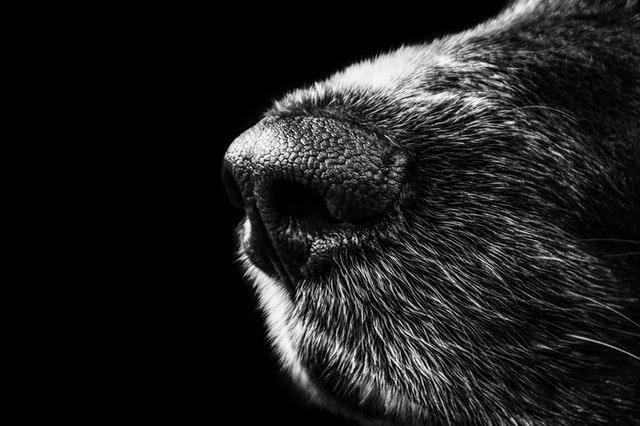 What do dog noses have that humans don't? They possess up to 300 million olfactory receptors in their noses, compared to about six million in us. And the part of a dog's brain that is devoted to analyzing smells is about 40 times greater than ours. Dogs also have something called neophilia, which means they are attracted to new and interesting odors. 
Dogs possess a sense of smell many times more sensitive than even the most advanced man-made instrument. Powerful enough to detect substances at concentrations of one part per trillion—a single drop of liquid in 20 Olympic-size swimming pools. With training, dogs can sniff out bombs and drugs, pursue suspects, and find dead bodies. And more and more, they're being used experimentally to detect human disease—cancer, diabetes, tuberculosis, and now, malaria—from smell alone.
Dogs' noses also function quite differently than our own. When we inhale, we smell and breathe through the same airways within our nose. When dogs inhale, a fold of tissue just inside their nostril helps to separate these two functions.
When we exhale through our nose, we send the spent air out the way it came in, forcing out any incoming odors. When dogs exhale, the spent air exits through the slits in the sides of their noses. The manner in which the exhaled air swirls out actually helps usher new odors into the dog's nose. More importantly, it allows dogs to sniff more or less continuously.
We can't wiggle our nostrils independently. Dogs can. This, along with the fact that the so-called aerodynamic reach of each of their nostrils is smaller than the distance between the nostrils, helps them to determine which nostril an odor arrived in. This aids them in locating the source of smells—we've all seen dogs on an interesting scent weave back and forth across its invisible trail.